Hi. I'm Linda Eskin – "Fit Coach Linda" – and I'm here to guide you to success in your fitness adventures. Whether that means achieving a physical performance goal, managing or reversing a health issue, or just feeling great and having lots of energy, I'm ready to help you reach success, wherever your fitness journey takes you. My passionate, positive work in personal training and fitness coaching builds naturally on decades of professional education and experience.
Throughout my diverse careers, my focus has always been on empowering people – especially beginners – to feel confident and be successful. 
Nothing is quite as offensive in the fitness world to me as the elitist, exclusive attitude that some people just don't belong, can't achieve ambitious goals, or shouldn't even try. If you've ever been discouraged, shut down, or shut out because you are too young, too old, the wrong body type, the wrong gender, or the wrong whatever, you will be glad to know it's my goal to help you get in the game. Healthy, fun physical activity is your right. You belong.
I'm here to guide you in achieving your physical, performance, and body composition goals.
On your own terms
In your own space
In your own time
Fitness requires more than hitting the gym a few days a week after sitting at a desk for 8 hours. You need to move! You can reach your fitness goals by working out on your own and being active throughout the day, every day, when and where it works for you. I can show you how, and I can keep you on track.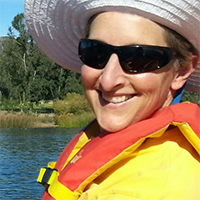 A Passion for Learning
I've earned professional certifications from the National Academy of Sports Medicine (NASM) and the American Council on Exercise (ACE), two of the industry's most respected organizations. I've also earned the coveted SFG-I Kettlebell Instructor certification from StrongFirst – the organization founded and led by Pavel Tsatsouline. My continuing education training has included courses in the Functional Movement Screen (FMS) with Gray Cook, Todd Durkin's Bootcamp workshop, certifications in the Classic, Circuit, and Yoga programs from SilverSneakers.
Broad Experience
I have a Bachelor's degree in Psychology and decades of work in experience design and technical communication. I am a martial artist, a horse person, and a musician. I have a deep understanding of dedicated practice, body awareness, and motor learning. I have worked with diverse clientele, from teaching children in martial arts to leading group fitness classes for seniors with limited mobility, and of course many awesome folks the fitness industry refers to as general population, or GenPop. People like you!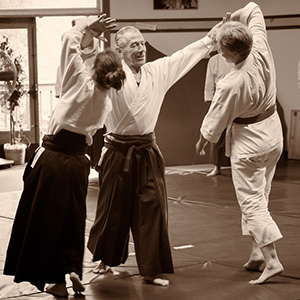 Training, and Writing About Training
When I'm not helping my clients learn how to get and stay in great shape, I'm usually at the dojo, training in Aikido. I earned the rank of sandan (third-degree black belt) in November of 2022. If I'm not on the mat being thrown across the room by my friends I'm probably standing at my desk, writing. I have a collection of books planned, and am looking forward to completing two – one for adult beginners in Aikido and one for children – within the next year.
Stay in touch!
You can stay up to date on my latest programs by subscribing to my Newsletter.  Follow my Fit Coach Linda page on Facebook, too. And I'd love to hear from you, too! You can email me at [email protected].
I'm looking forward to helping you achieve your goals!
Linda Eskin