Hi, I'm Linda Eskin. I'm here to guide you to success in your fitness adventures, whether that's achieving a physical performance goal, managing a health issue, or just feeling great and having fun.
If you're new to fitness, or returning after a long break, I can help you see inspiring possibilities for yourself. I've walked this path; I can show you the way.
I've been in your shoes, at the beginning of the path, uncertain but hopeful, beaten down but determined. Over the past 15 years I've discovered that I'm capable of much more than I'd imagined.
I started in martial arts at 46. I trained hard and studied hard, and became a Group Fitness Instructor, Personal Trainer, Kettlebell Instructor, and Behavior Change Specialist. At 60 I earned my third-degree black belt in Aikido, ran my first 5K, and starting competing in Highland games. And I've been having a blast doing it all.
In my decades of user experience analysis and technical communication my focus was always on empowering people — especially beginners — to feel confident and be successful. Now I bring that commitment to my writing.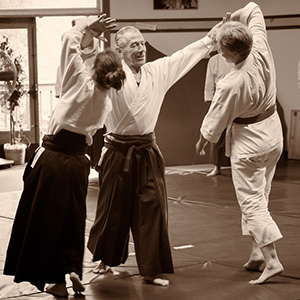 If you've felt discouraged, shut down, or shut out because you've gotten the message that you're the wrong age, the wrong body type, the wrong gender, the wrong whatever, I'm here to tell you that sports, challenging activities, and play are your right.
You belong here.
My goal is to help you rock your fitness journey, wherever it takes you.
Training, and Writing About Training
When I'm not helping my clients learn how to get and stay in great shape, I'm usually at the dojo, training in Aikido. I earned the rank of sandan (third-degree black belt) in November of 2022. If I'm not on the mat being thrown across the room by my friends I'm probably standing at my desk, writing. I have a collection of books planned, and am looking forward to completing two – one for adult beginners in Aikido and one for children – within the next year.